MP3s!!
And now the post you've all been waiting for! I finally set up a hosting account for mp3s so now you can listen to some of the music I've been writing about. As of now, I don't have a way to convert my vinyl into mp3s, so the songs I can post are limited to those I have on iTunes or some other services. I haven't decided how long I am going to leave these links up, but suffice it to say that these songs are for entertainment and/or educational purposes only and if you like what you hear, support the artists and buy their recordings. Of course much of this stuff is out of print so in that case, have at it since the suits obviously don't want you to hear it! I'm going to try and post 2-3 mp3s every weekend and I'll appreciate any and all feedback that you give me.
Without further adieu...
Lou Rawls "Dead End Street (Monologue)"/"Dead End Street" b/w "Yes It Hurts - Doesn't It?" (Capitol)
I picked this single up over the weekend and I was disappointed to find out that it was slightly warped and the first 30 seconds or so are unplayable. Anyone out there have any idea if there is a way to "unwarp" vinyl? These Axelrod/Rawls jams are probably my favorite discovery this year so far. Axe's arrangements are so complex and rival anything that Brian Wilson or Phil Spector was putting out in the same era. Add to that some of the funkiest drum breaks this side of James Brown and the sound is intoxicating. Expect more where this came from in the coming weeks!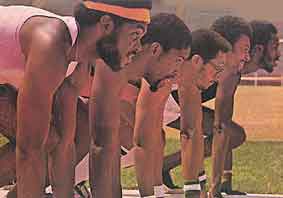 The Blackbyrds "City Life" (Fantasy, 1975)
By request, here is the title track from the Blackbyrds LP I blogged about
a few weeks ago
. Upbeat and funky, The Blackbyrds managed to conjure up a gritty urban realism that comes across as a timeless soundtrack to life in urban America.

Syreeta "Harmour Love" (Motown, 1977)
People googling this tune have driven the most traffic to this site since I first blogged about it in the same post as the Blackbyrds above. Perhaps everyone else is discovering this tropical soul nugget the way I did, from the movie
Junebug
. The album may have been a disappointment but for $1, I am perfectly content having this song in my collection.
Enjoy. I'll try and post some links to a few other mp3 blogs tomorrow.